The best choice to start your biomass pellet business.
If you decide to build your own biomass pellet plant, we strongly recommend you to consider this project, because:
This is our most popular pellet line and, as the top biomass pellet plant manufacturers in China, our success is proven through our track record of customer satisfaction (please check our project list).
Production capacity varies from 2 to 4 t/h, meeting most of our customers' pellet output requirements.
The equipment is easy to set up and can be customized.
It can save you space (less than 1600㎡) and it is easy to control the ash produced.
Project description:
Power: 250KW (with drier); 200KW (without drier)
Capacity: 2-3 t/h (with 2 sets of model 420 ring die pellet mill)
3-4t/h (with 2 sets of model 508 ring die pellet mill)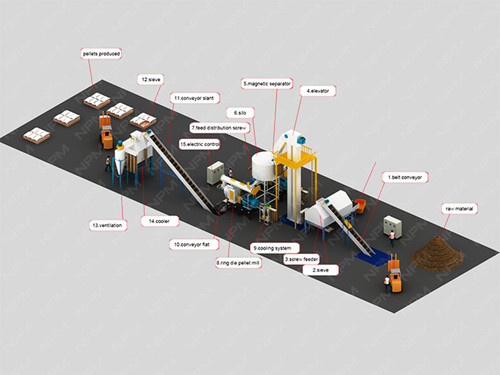 The 3D model layout for biomass pellet plant with capacity of 2-3 t/h

Your biomass pellets will be produced following this process flow:
Crusher/chipper equipments → conveyor → sieve → small drier (not necessary if the raw material has a fine moisture) → screw feeder → ring die pellet mill (model 420, 1 set) → conveyor → cooling system → bagger.
In this project, we will also provide you with the following equipment based on your requirements:
Electric control system, cooling system for ring die pellet mill, cooling system ventilation, dedustor, iron removal system.